2024 FESTIVAL HOURS
Thursday, May 29th – Friday, May 30th – Saturday, May 31th        11:00 AM – 10:00 PM
                     Sunday, June 1st – 11:00 AM – 6:00 PM     FREE Admission to the public!
CHARITY PARTNER
Hey CORNHOLE enthusiasts… Here's your chance to test your skill at the 1st Annual "CORNHOLE FOR A CAUSE – AIMING FOR AUTISM" Cornhole Tournament at the 32nd Annual – Erie's Wild Rib Cook Off and Music Festival. This event will be held on Saturday, September 9th at the #ErieRibFest in Perry Square Park, downtown Erie, PA. The tournament takes place, RAIN or SHINE. If it's raining, the tournament will be held under cover of the big top tent. Click on the QR code or go to www.AutismSocietyNWPA.org. Sign up your two-person team today! Limited slots are available. Cash prizes will be awarded to the top 2 teams! The Autism Society hosts this tournament, and all proceeds go to the Autism Society NWPA.  Wahoo!!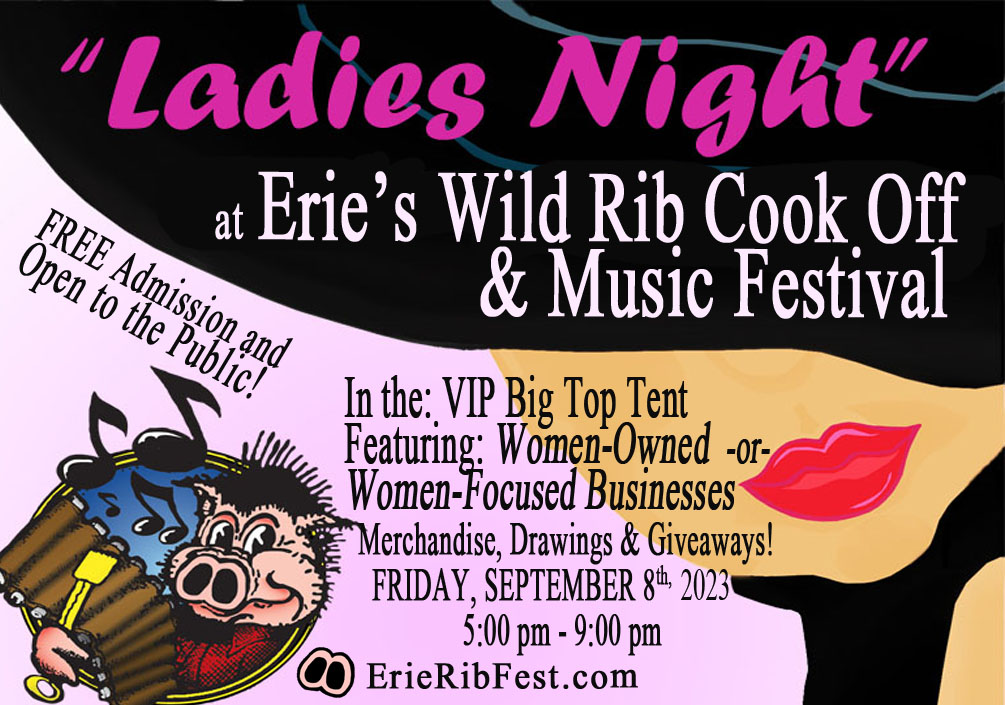 LADIES NIGHT – Takes place under the Big Top Tent on Friday evening, September 8th from 5:00 PM till 9:00 PM at the festival.
This special event is open to the public, and all are welcome to visit the tent featuring a variety of businesses from handmade one-of-a-kind artwork and crafts to products and services from area businesses. The Erie Rib Fest is excited to feature Women-Owned and/or Women-Focused businesses and to provide them a platform to showcase their products and services.
Women, stronger together!
The RIB JUDGING will also occur at 5:30 PM in the same Big Top Tent while LADIES NIGHT is happening. Stop in and watch the panel of judges taste the competition ribs and the secret sauces. This is a blind judging process where the competition ribs are identified by a number selected randomly from an envelope. No one knows which teams possess which number. Following the judging, the ballots are tallied. The Rib Judging Competition winners are announced on Saturday night at about 7:00 PM from the main stage.  Once the number is announced, the Rib Team who has it holds up their number and steps forward to receive their trophy.
We invite you to walk about the tent, check out the Rib Judging Competition, enter the drawings, and discover what is happening in our community.
We have held this activity in the past, and the tent was a buzz of networking, conversation, and excitement. Winners for the many giveaway raffles will be announced in the tent at about 8:40 PM.