2023 ERIE RIB FEST BBQ TEAMS
CAROLINA RIB KING – South Carolina
COWBOY'S BBQ – Texas
DESPERADOS – Ohio
JOHNSON'S BBQ  – Virginia
OUTLAW BARBECUE REVOLUTION – Erie, PA
OUTLAW BBQ – WESTLAKE – Erie, PA
UNDERDOG BBQ – Erie, PA
One of the highlights of the Erie's Wild Rib Cook Off & Music Festival is the RIB JUDGING COMPETITION where all participating Rib Cooking Teams compete to win in the category of Best Ribs and Best Sauce.  On Friday evening at the Rib Judging Contest, the teams present their competition Ribs to the panel of judges.  In a blind judging process, these ribs are judged on Appearance, Taste, Texture, and Sauce by a numbering system from 1 – 10. Once the judging process has ended, the ballot information is recorded on a spreadsheet, and the votes are tallied. On Saturday evening at 7:00 PM the winners are announced from the main stage, and the awards are presented.
The winners of these coveted awards proudly display their trophies at events across the country.  You will see trophies of all materials, sizes, and shapes displayed in front of their booths. The Erie Rib Fest has presented cherry wood engraved plaques with the pig logo since it began.  They are made locally by Laser Creations and are proudly displayed at the events.
Each year the participating rib teams who have won a title, have banners made to showcase their wins and hang them proudly on the framework that towers high above their booths. If they have won in Erie, their wins are seen across the country.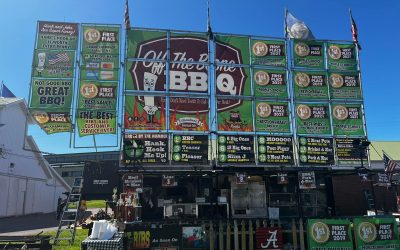 OFF THE BONE BBQ MEET BBQ ENTREPRENEUR PETEY MARSHALLWhen you ask Petey Marshall how he became so passionate about creating award-winning Barbecue, BBQ Rubs, and his own Barbecue "Secret Sauces," you'll quickly understand it was, without a doubt, in his DNA to become...
read more