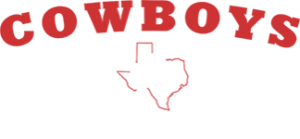 Cowboys BBQ & Rib Co. is a nationally recognized award winning Bar-B-Que competition team with over 32 years of dreams and wisdom. Cowboy's is operated out of Fort Worth TX by Enrique and Lauren Vega. Cowboys has won over 450 National Titles to date for "Best Ribs" "Best Sauce" "People's Choice" and more. Cowboys is still traveling over 10,000 miles a year competing from Fargo ND, to Erie, PA and everyone in between.
The Legacy began 32 years ago when Dallas and Tahnya Green saw the need to feed. They were Texas natives, family oriented, and entrepreneurs at heart. Dallas, Tahnya and their 5 kids set off to find Dallas's passion for cooking and to show the world the tradition of true Texas Barbeque. Cowboys started on the side of the road with a tarp, two by fours, a smoker, and a vision that couldn't be stopped. Within two years, the Green's stand became such a success that they saved enough money to open there own restaurant in 1988 in Richmond, VA. Two years after that Cowboy's would become such a success that they were recognized and invited to the "World Invitation Rib Championship Cook Off" in 1990. Cowboys Bar-B-Que was awarded 'People's Choice Award for best ribs in the nation. Throughout the years, the Green family and the Cowboys crew traveled the Unites states and Canada and became a major competitor in the BBQ competing circuit.
As the years passed, the wheels turned, and the wood burned. One sunny day in 1996, in New Jersey, the smell of BBQ smoke filled the streets of Trenton. Cowboys BBQ was competing at the Trenton Thunder field when up rode an 11 year old boy on his bike looking for work. It was on that day in 1996, little did they all know, but Dallas had met the future of Cowboys BBQ. Enrique worked the event for a few years and eventually Dallas asked Enrique to work the summers with him. He would travel the nation learning how to cook good Texas Q and learn the tricks of the trade on competing against the Top BBQ-ers in the nation. Over the years, Dallas and Enrique began a mentoring relationship. Enrique traveled every summer with Dallas learning his astonishing cooking, smoking, and grilling skills. Over the next 13 years there were many successes and learnings for Cowboy's and the crew. In that time Lauren, daughter of Dallas and Tahnya, and Enrique struck a friendship up and worked side by side for many years learning the ropes in the BBQ business world. Through friendship and hardships Enrique and Lauren became fond of each other and dated until they wed in 2013. During those years they continued helping Dallas on an as needed basis; until 2017 when Dallas finally hung up his spur, and cowboy hat. Passing the secrets on to his son-in-law, daughter, and their two future BBQ-ers, Enrique Jr. and Elijah, they will carry on the legacy that began so many years ago.
Enrique and Lauren combined have over 20 years of knowledge in the BBQ industry. They bring the wisdom on how to feed good quality bbq to the masses all while holding a high standard of integrity. The future of Cowboys comes with a new clear vision, innovative thinking, and what we feel to be the backbone of who we are. This is integrity, family values, hard work, and giving the people what they want. This is Good Quality Texas BBQ, the foundation upon which this company was built on. We will carry on the legacy making it even better brighter and more delicious than it already was. With fire in their hearts and wisdom in their bones they are a powerhouse couple and the forthcoming for bbq industry.
And so that is our story . . . the legacy carry's on, so stay tuned for this story is far from over.